Case Study
The Motley Fool Australia
The Motley Fool Australia Decreases Cost Per Acquisition on Taboola by 50%

The Motley Fool Australia Decreases Cost Per Acquisition on Taboola by 50%
440% Increase in Customers on Taboola
50% CPA Decrease on Taboola
7,700% Increase in Customer Engagement (Clicks)
---
Company
The Motley Fool Australia is a private financial and investing advice company aiming to make the world smarter, happier, and richer and serve millions of hardworking investors in Australia and around the globe.
Challenge
The Motley Fool Australia wanted to achieve performance advertising goals, including increasing their number of new customers at a lower CPA (cost per acquisition)
Solution
Utilize Taboola sponsored content to reach the right audience across a large network of premium publisher sites.
Results
The Motley Fool Australia saw a 440% increase in customers On Taboola, a 7,700% increase in customer engagement, and a 50% lower CPA for Taboola activity.
Introduction
With performance marketing goals in mind, The Motley Fool Australia partnered with Taboola to develop a relationship built on transparency and trust.
By creating sponsored content campaigns with Taboola, The Motley Fool Australia was not only able to achieve their performance goals, but they were also able to discover other parts in the funnel where Taboola could help as well.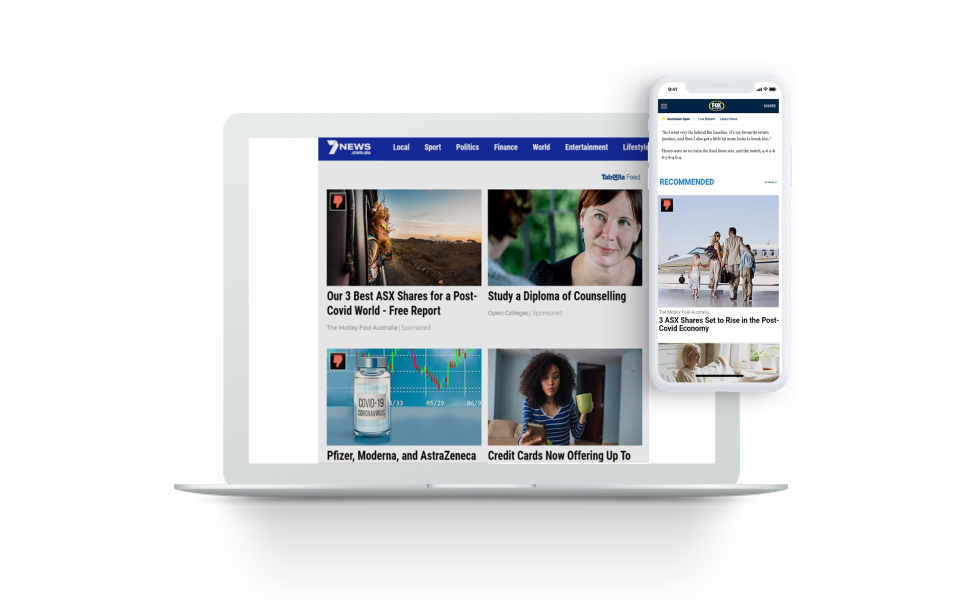 THE TABOOLA PIXEL HELPS GIVE THE MOTLEY FOOL AUSTRALIA AN ACCURATE VIEW OF THEIR SUCCESS
The Motley Fool Australia has a multi-stage funnel, so understanding how users move through this on Taboola was important to optimize towards its end goal.
Rolling out the Taboola Pixel gave The Motley Fool Australia a broader scope of insight into accurate tracking of the customers' journeys beginning with Taboola and helped point out opportunities where multiple campaigns could yield success. This approach allowed The Motley Fool Australia to ensure that gaps in the funnel were minimized on the Taboola network.
The Motley Fool Australia runs both retargeting and prospecting campaigns with Taboola and utilizes a range of segmentation techniques to best reach its audience with the right message.
THE FUTURE OF TABOOLA AND THE MOTLEY FOOL AUSTRALIA
Taboola and the Motley Fool Australia have developed a true partnership. Both parties understand the constantly changing landscape of performance marketing and react quickly and nimbly with the focus ultimately being on CPA goals.
As part of this partnership, The Motley Fool Australia has been at the forefront of launching the new Taboola Ads platform, are involved in testing new tools in beta, and also work with Taboola's creative shop team to find creative variants that lead to the strongest performance.
Both parties are keen to drive value, and share learnings and insights, beyond pure financial investment in the platform. The Motley Fool Australia plans on continuing to work closely with Taboola to iterate on their existing campaigns, create new ones and continue to see success.