Case Study
NDTV
NDTV Adopts Taboola Feed Across Flagship Site, Apps and AMP Pages After Unprecedented Growth

NDTV's Implementation of Taboola Feed and Next Up Features Increases Engagement
47% RPM Uplift on Mobile Devices with Taboola Feed
14% RPM Uplift After Implementation of Next Up
31% Increase in Organic CTR with Taboola's Next Up Feature
---
Company
NDTV is primarily an internet company with the flagship website—ndtv.com—India's number one destination for general news.
Challenge
Implement continuously scrolling Taboola Feed across desktop and mobile properties, as well as Taboola's Next Up feature to keep visitors engaged.
Solution
As an innovator in online news, NDTV is always looking for ways to engage visitors with relevant content, while increasing revenue.
Results
With Taboola, NDTV has seen 47% of RPM uplift on mobile devices, and with Next Up, a 14% uplift in RPM and a 31% Increase in CTR.
Introduction
New Delhi Television (NDTV) is, and has been for more than a quarter century, a pioneer in India's news television and digital journalism.
Founded in 1988 by Radhika Roy and Prannoy Roy, NDTV is the most watched, credible and respected news network in India today, and a leader on the Internet.
From the path-breaking "The World This Week" (nominated as one of India's 5 best television programmes since Independence), the first private news on Doordarshan "The News Tonight," producing India's first 24-hour news channel "Star News" and the country's first ever two-in-one channel Profit-Prime, NDTV has been at the forefront of every single news revolution.
NDTV and all its other digital properties make NDTV the second largest digital media destination in India with over 200 million unique users a month across all digital platforms. It has won numerous awards in the digital space for all its products and is also one of the only digital media companies which is profitable.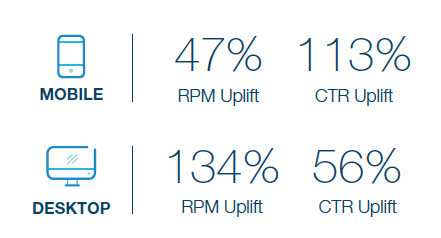 As Results Grew, So Did NDTV's Adoption of Taboola Feed Across Sites, Apps and More
From it's early days, NDTV was one of the first publishers to adopt Taboola Feed on their site. They replaced Taboola's traditional widget with a continuous scroll Taboola Feed on desktop and mobile sites.
Implementation started with article pages in their news vertical, and quickly grew to other verticals like Khabar (Hindi news vertical), sports, technology, auto, food, movies and more.
Adoption rapidly increased over the course of one year as NDTV saw massive uplift in RPM, 134% on desktop and 47% on mobile. When it comes to organic click-through-rates (CTRs), they saw a CTR uplift on desktop devices of 56%, and on mobile devices, 113%.
Starting at just 30% adoption across all NDTV pages, Taboola Feed is now implemented on nearly 71% of pages including their flagship site, news apps and AMP pages.
Taboola's Next Up Feature Re-Engages Visitors with Relevant Recommendations
As an additional engagement and revenue source, NDTV implemented Taboola's Next Up feature after a successful A/B test across 100% of article pages across mobile sites.
Next Up re-engages users before they bounce by surfacing recommendations above the fold in a sticky slider unit.
NDTV saw an RPM uplift of 14%, and an organic CTR increase of 31%.
Taboola focuses on innovation—specifically innovation in collaboration with publisher partners. In the spirit of collaborative innovation, NDTV has recently implemented Taboola's new Explore More feature. Inspired by common native app experiences, Explore More is designed to help publishers keep users on their mobile pages longer, re-engaging users by surfacing relevant content recommendations.
NDTV looks forward to continuing their innovative partnership with Taboola—a partnership which they find values user experience.