Case Study
360 Realtors
360 Realtors Doubles Traffic to Real Estate Properties with Taboola Sponsored Content

With Taboola Sponsored Content, 360 Realtors Doubles Traffic
100% Increase in Traffic
48% Increase in Leads Generated
---
Company
360 Realtors is an all-encompassing solution for homebuyers. They combine technology with the sales expertise of 800+ experts to guide homebuyers through the purchasing process
Challenge
Increase impact, awareness, and conversions among homebuyers searching for real estate resources online.
Solution
Use Taboola Sponsored Content to amplify reach and streamline targeting process.
Results
With Taboola, 360 Realtors saw a 100% increase in traffic and a 48% increase in leads generated.
Introduction
360 Realtors is the largest real estate consulting company in India whose team of experts aim to alleviate the pain points associated with purchasing a property and provide support throughout the entire process.
Prior to working with Taboola, 360 Realtors felt limited in the ability to refine and optimize campaigns. Taboola gave 360 Realtors the resources they needed to broaden their impact for the homebuyer audience searching for their ideal residence online.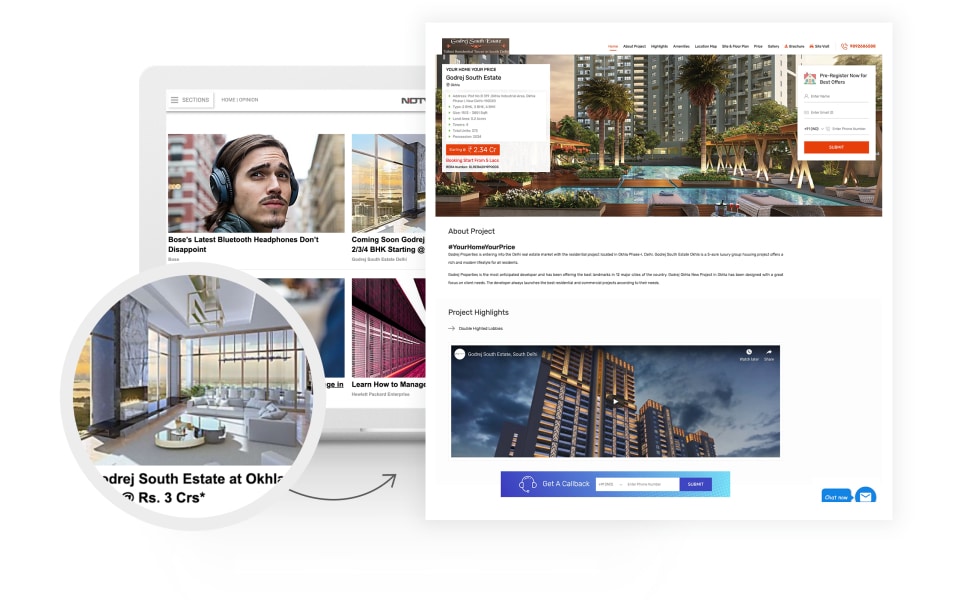 360 Realtors Amplifies Reach with Multiple Targeting Techniques
With Taboola, 360 Realtors is able to deploy various targeting strategies to ensure that they are reaching the right audience for their developers.
360 Realtors primarily used three targeting techniques in their campaign. They targeted campaigns by zip code to interest audiences in the specific areas in which their listings were located. They used retargeting to drive action and tell their story through continuous user engagement. And, they used targeted audience data segments to reach potential customers similar to their existing customer base, making them more qualified and primed to be interested.
360 Realtors drove users to a project-specific landing page where they would have the opportunity to fill out a form to have a member of the 360 Realtors team contact them directly to further explore the listings they were interested in.
These varied targeting techniques combined with high-quality landing pages allowed 360 Realtors to see their traffic double.
360 Realtors Finds Increased Efficiency Working with Taboola
With their Taboola Account Management team, 360 Realtors enjoyed access to continuous real-time insights and in-depth expertise.
They were able to enhance the efficacy of their digital marketing and feel confident in the assistance they were receiving from the Taboola team.
From ideation to execution, Taboola and 360 Realtors worked together to create dynamic and successful marketing campaigns.